Here in Sanrio Treasures, we think sharing is part of friendship. We share all the time such as sharing a webpage, a house, but what if we share Treasures? What you do is make a little treasure(coin,dollor,seashell,ect) that signed with your name. My Treasure is a Keroppi coin. Your treasure doesn't have to be a sanrio since it is your treasure but we'll love it to be a Sarnio.
Here are things you have to do before your Treasure is in our box:
1) Make your Treasure
2) Have a web site
3) Place the Treasure Box
on your page such as on the main page or enter page or just put it on everypage.
4) E-mail me your name, your treasure, your webpage at SnowOoOBall@yahoo.com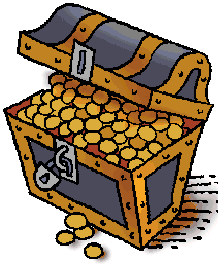 Click the Treasure box to look inside!